How to Start an Online Blogging Business. Blogging is one of the most famous, easy to start and beginner-friendly online business that everyone can start easily.
Here, we've discussed a brief overview of Blogging Business that will help you to start your Blogging journey in the right way or at least, it will help you to understand what Blogging is or how you can build a whole business around your blogging website.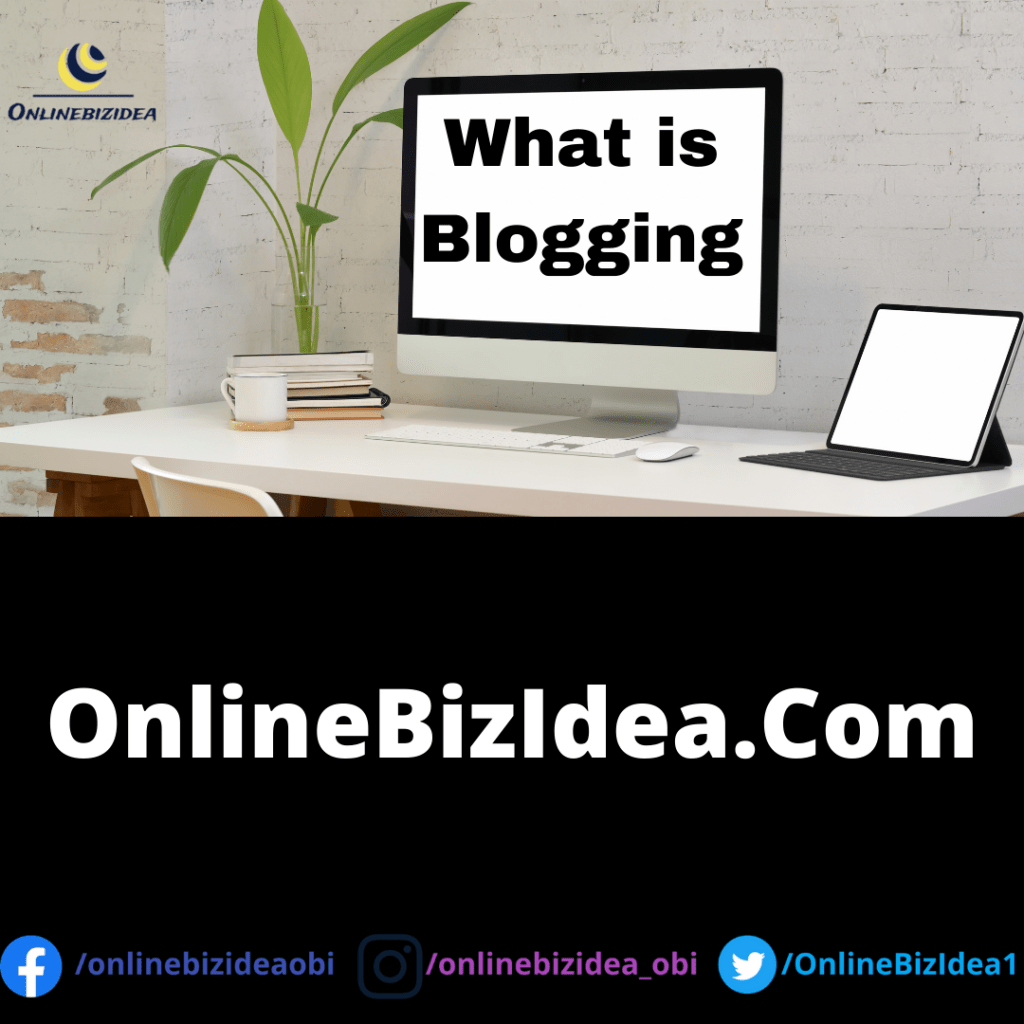 What is Blogging?
Blogging is writing about some specific topic/topics according to your interest, knowledge and surroundings.
Important Terminologies related to Blogging;
Blog:
The blog is a type of website which contains informational content about some specific topic/ information about different topics.
It's also called weblog and mostly called as 'Blog'.
Blogger:
A person who writes a blog or owns a blog is called a blogger.
Blogging:
According to the thebalancesmb.com;
"Blogging started as an opportunity for individuals to write diary-style entries, but it has since been incorporated into websites for many businesses."
Uses of Blogging;
Blogs in the starting were written as a personal diary, journals or thoughts of an individual. But as time progressed the sphere of blogging keep on expanding.
Nowadays, the blogs aren't only written or used by individuals but they're also been used and utilized for so many different reasons;
Blogs are used by small and large businesses to benefit their clients by;
a) Educating them about their Business's Services/ products
b) informing them about the updates in their terms/ conditions/ service updates/ product updates and many more.
c) sharing the story and info about their business
 Used by Individuals to share information, history, life events and stories with other people on the internet.
. They're used to make money by so many different methods.
There are many other uses of blogs that we'll discuss in another article.
Blogging is a type of online business that you can easily start and run right from anywhere in the world where you have access to PC and a good Internet connection.
You need some things before starting a blog;
1. You need to identify/ find your topic/niche ;
You need to find a niche or subject for your blog that will help you to create content and will help your users to find the relevant information about a specific topic that they're looking for.
How to find your niche/ topic ;
There are many different methods to find a niche and I'm gonna share one that I use for myself.
1. Make a list of 10 to 15 topics that you're interested in.
2. After making a list, filter the top 3 to 4 topics based on;
i. Your interest
ii. Your Knowledge
iii. Your Environment etc.
3. Try to write 20 to 30 blog post topics on each of the filtered topics.
4. Now, do justice to yourself and chose one or two topics (depending on how many blogs you want to create)
5. Chose the one whose blog topics were easy to write and you think that you can write about this.
You have to write specifically on your blog niche if you want to build a loyal audience and a blogging business.
2. Consider your blog a business opportunity:
You should not only keep blogging just as your hobby but consider it as a business opportunity and take it to the professional level by taking advantage and using all business opportunities to monetize your blog.
3. You Need a Domain and Hosting:
Domain:
A digital address of your blog that will let people find your blog online.
You can buy your domain name from Different Domain Providers.
For Example, GoDaddy, Namecheap etc.
Hosting:
A digital space where your blog can be hosted for a specific time on the Internet.
You have to buy hosting from hosting provider companies like Bluehost, Hostinger, NameCheap, HosterPk and InterServer etc.
If you have some extra budget, you can also hire a developer who can take care of all these things for you and you just have to write blogs and publish them.
4. Content Writing:
For Blogging, one of the most important things is writing blog posts or writing content. You need to write engaging and attracting content that keeps the readers engaged and captivated.
5. Building Audience:
To monetize or make money from your blog, you need to build an audience base that will be loyal to your brand and can help you in different money-making opportunities.
6. Social Presence:
If you want to create a whole online business around your blogging niche or want to take your blogging business to the next step, then you should also build social media presence of your brand that can increase your money-making potential.
Blogging Platforms:
Blogging platforms are the platforms on which you can create a blog for yourself (or maybe for your clients).
There are many different platforms that you can use to create a blog. Some of them are free and some are paid.
For Example,
WordPress.com (Free)
WordPress.org (Paid)
Blogger.com (Free)
Wix.com (Free and Paid) etc.
Squarespace (Paid)
How to Make Money From Blogging:
Blogging Business brings a lot of money-making opportunities:
There are many different methods that you can make money from the blog.
Ten methods are discussed below that you can use to make money or grow your blog business,
1. Google AdSense
Google partner program in which Google show ads on your blog and pay you money for views and clicks on the ads.
2. Other Ad Networks
Like
1. media.net
2. Infolinks
3. MediaVine
4. AdThrive
3. Affiliate marketing
The type of Digital Marketing, in which you promote the products of someone else and make a commission on every sale that is made through your special link.
4. Direct/ Banner Ads
You can invite brands and businesses to post ads or banners directly on your site and you can charge them for that.
5. Guest article Posting
6. Sponsored articles for other brands or business
7. You can also offer services as a paid writer on your blog
8. Sell your other services.
9.You can also Create and sell digital products like EBook, Digital courses etc.
10. You can sell Physical Products related to your blogging niche
This is a short article about blogging in which I've tried to give a complete and brief overview of blogging and a roadmap to start your blog.
What do you think about blogging and share if you think, it was helpful for you.